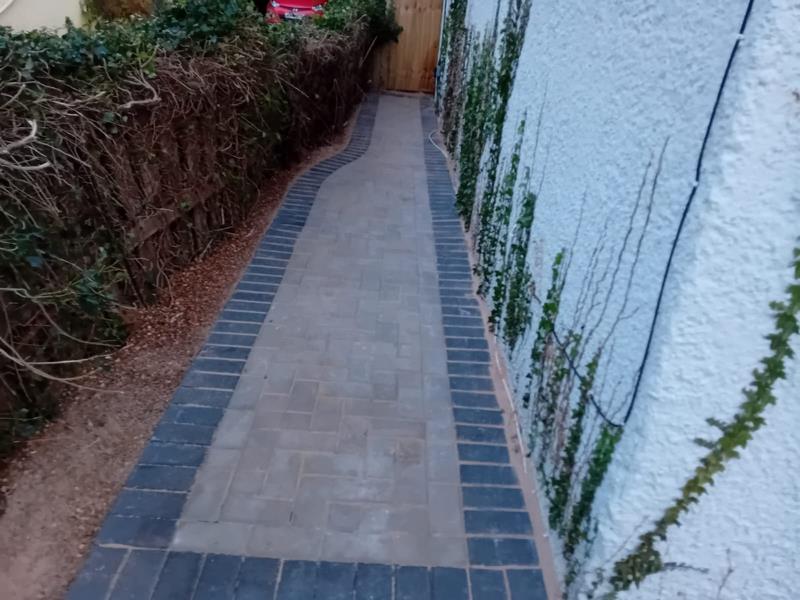 Hamilton Paving: A Block Paving Transformation in High Wycombe
Project Summary:
Location: Detached Residence, High Wycombe
Service Rendered:
Driveway and Pathway Block Paving Project Background: Owners of a charming detached house in High Wycombe sought Hamilton Paving's expertise due to their deteriorated driveway. The existing driveway was in a state of disrepair, showing extensive wear and tear, which detracted from the home's beauty and posed risks for vehicles. Hamilton Paving's Strategy: Our initial step was a thorough site evaluation to grasp the project's extent and the homeowners' specific needs. Keeping their vision at the forefront, we crafted a strategy to revitalize their driveway, focusing on both durability and aesthetic improvement.
Removal of the Old Driveway:
We started by completely removing the existing driveway surface, taking care to minimize disruption to the surrounding area. Excavation and Site Preparation: To prepare for the new block paving, we excavated to the required depth, ensuring a level base free from any debris or remnants of the old surface.
Foundation Installation:
Laying a solid foundation was key for the driveway's longevity. We used premium sub-base materials to provide a stable and level base for the new paving blocks, minimizing future risks of settling or shifting.
Block Paving Laying:
On a well-prepared foundation, our team precisely installed the new paving blocks, adhering to the chosen design. We focused on precision and detail, ensuring each block was perfectly aligned and at the right depth.
Final Touches:
After setting the blocks, we applied a layer of kiln-dried sand, compacting it to stabilize and seal the blocks, resulting in a smooth and refined finish.
Project Results:
The transformation was completed in just a few days, leaving the homeowners with a striking, high-quality block paved driveway. The renovation significantly enhanced the driveway's appearance, turning a once worn-out space into an attractive and practical addition to their home. Client Testimonial: The homeowners were thrilled with the outcome, commending Hamilton Paving for our professionalism, efficiency, and exceptional work quality. They noted a significant improvement in their property's curb appeal and were confident in their new driveway's durability.
Project Conclusion:
This project in Buckinghamshire is a shining example of Hamilton Paving's expertise and commitment to delivering superior paving solutions that are both practical and visually appealing.