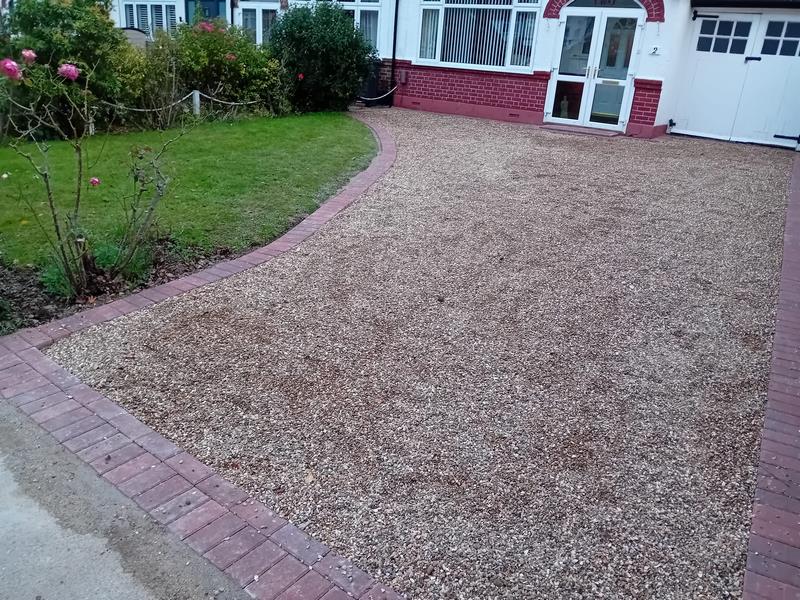 Hamilton Paving: A Gravel Driveway Project Transformation in Buckinghamshire
Project Overview:
Location: Semi-detached House, Buckinghamshire
Service: Driveway Gravel
Background:
The homeowners of a stunning semi-detached property in Buckinghamshire approached Hamilton Paving with concerns over their outdated and worn-out driveway to their home. With irregular stone slabs, signs of weed growth, and patches of dirt. The environment looked drab, offering a less than appealing welcome to the residence.
The Hamilton Paving Approach:
Our team began with an on-site inspection to understand the scope of work and specific requirements. With the homeowners' vision in mind, we devised a plan to rejuvenate their driveway while ensuring durability and aesthetic enhancement.
Old Driveway Removal: The project kicked off with the thorough removal of the old stone slabs. Our team carefully removed the old material and disposed correctly, ensuring minimal disturbance to the properties surrounding area.
Foundations: To lay the foundation for the gravel, a protective weed barrier, ensuring that the finished driveway would remain pristine for a long time.
Gravel Laying: A crucial step to ensure longevity and durability, the gravel has to be laid with quality care. Evenly spread over the area, providing a fresh and modern aesthetic touch to the drive, the gravel laying was complete and already brought the driveway to life.
Block Paving Edging:  Adding structure and a colouful finish to the gravel driveway, a red block paving covered the edges of the gravel to complete the finished look. Block paving in this instance creates a small barrier between the gravel and anything beyond the exterior of the drive, creating a tidy way to maintain the gravel.
Finishing Touches: Ensuring all block paving was laid correctly, gravel was spread out equally and pleasing to the eye, it was time to show the customer their new driveway.
Project Outcome:
The result is a rejuvenated driveway that not only uplifts the home's curb appeal but also offers a functional space for vehicles. The use of quality materials and expert craftsmanship ensures longevity, making it a valuable investment for the homeowner.
Client Feedback:
The homeowners were overjoyed with the results, praising Hamilton Paving's efficient and professional approach to the quality of work. Mentioning particularly a noticeable difference in the curb appeal of their home and expressed their love for an easy maintainable and durable driveway.
Conclusion:
Enhance your home's first impression with Hamilton Paving's top-notch driveway solutions. Optimised for durability and aesthetics, we pride ourselves on delivering results that homeowners in Buckinghamshire and beyond can be proud of.